Sr. Grandmaster
MTS Alumni
Joined

Feb 8, 2009
Messages

14,653
Reaction score

2,690
Location
I have been informed that one of my senseis, Sensei 'Chai' Uballe, has passed from this life today at 4:30 pm EDT following a massive heart attack on Wednesday. I am very broken up over this; he was a good friend and a kind and patient instructor to me and to many of the new students.
He had recently suffered many setbacks in life. A long battle with diabetes and other health problems, he had been out of work for some time, had lost his house, and yet he was always cheerful, and he was always in the dojo teaching; and all the senseis at our dojo are unpaid volunteers. He never had anything bad to say about anyone, he never criticized without showing the right way to do things, he never lost his temper. He was a skilled martial artist, very dedicated to Isshin-Ryu and to the dojo. He was a friend and mentor to me, and I will miss him very very much. It won't be the same without him in our classes.
RIP, Sensei Chai. God speed.
http://hollowaysisshinryu.com/instructors/
Eli Uballe, Yon Dan

Eli, affectionately known as Sensei Chay to his students, has been studying with Sensei Holloway for 29 years. Sensei Chay is skillful at explaining things in multiple ways in order to help students better comprehend what they are learning.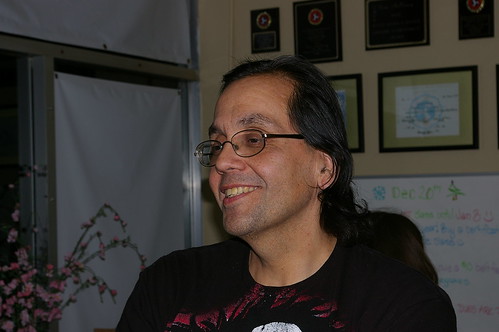 Holloway's Isshin-Ryu Karate Christmas Party 2010
by
Wigwam Jones
, on Flickr
Thank you all for your kind words and prayers in the previous thread. Continued thoughts and prayers for his family would be appreciated; he leaves behind a wife and three young children.