Joined

May 26, 2007
Messages

65
Reaction score

3
Location
In another thread there was some discussion of the terms kung fu, wushu and the differences between them. Below I have included a section from an article my wife and I did on the Jing Wu Association for Classical Fighting Arts magazine. It will appear in the next issue, which is due out in about a month. This is only a part of the article but I thought it might be of interest as there is a lot of confusion about how the Jing Wu Association, traditional martial arts and the Communist version of wu shu fit together.
Before turning to the excerpt from the article, let me mention some vocabulary:
Wu Shu ([FONT=&#26032]武術[/FONT]) literally "War Arts" simply means martial arts in common usage. This usage goes back well into the Qing dyansty.
Jing Wu Association
[FONT=&#26032]精武体育会[/FONT]); depending on the romanization system used, the name can end up being spelled: "Jing Mo", "Ching Wu", "Jing Wo", "Chin Woo". A privately funded "chain school" in Republican era China. Kind of the Tracy Brothers of China so to speak.
National Guo Shu ([FONT=&#26032]國術[/FONT]) Guo Shu literally means "National Arts", it was the phrase used as a generic term for Chinese martial arts during the Republican period from 1911 to 1949.
Jing Ji Wu Shu ([FONT=&#26032]競技武術[/FONT]) literally Competition Wu Shu; this is what westerners generally mean when they say "wu shu"; these are the routines developed in the Peoples Republic of China between the late 1950s to the early 1980s.
Having got the vocab straight here is the except (the footnotes are at the bottom of the post):
Four Phases
Chinese martial arts as they exist today are the outcome of four phases; all of which occurred within the last 100 years. These four phases were;
1.the original village-military phase of Chinese martial arts,
2.the Jing Wu Association phase,
3.the National Guo Shu phase,
4.the PRC wushu phase
leading to Chinese martial arts as it is today. Each of the four phases brought something new to Chinese martial arts development.
Up until about 1900 Chinese martial arts training was conducted either in the military by active duty military or in rural villages where martial arts was practiced as either a kids recreation or by adults who were involved in village defense as part of militias. Put simply if your were an adult training martial arts you were preparing to fight as part of some organized military unit. Martial arts were not an adult hobby, recreation or pastime; it was a skill. Martial arts training in this military-village militia sense placed a major emphasis on weapons use. Most of the time would be devoted to group formations using spears, staff, saber and shields. Empty hand training and long involved solo training routines were a very, very small part of this kind of training. Also too, training was "closed door" meaning a stranger did not just walk up with their checkbook and say to either a military or village militia martial arts instructor; "I wanna learn your martial art, teach me, here is my money"—that is not the way it worked (fn. 5).
The first public martial arts school, where one could basically just walk in the door, pay the fee and sign up, was the Jing Wu Association which opened in 1909 and ushered in a new era in Chinese martial arts training. The Jing Wu's "day in the sun" ran from about 1920 to 1925. The Jing Wu idea of public martial arts instruction was expanded in the late 1920s and 1930s by the government sponsored National Guo Shu project. The National Guo Shu project took the Jing Wu idea one step further; Jing Wu made martial arts available to the public, the National Guo Shu Project wanted to make Chinese martial arts
widely
available and to create a national standardized martial arts program that would be, in some senses, a tool of government ideals and policy. The Jing Wu was private, the National Guo Shu program was government run. The Jing Wu was basically a coastal cities project with a limited number of branches, the National Guo Shu program was envisioned (fn.6) as nation wide with branches in every public school in China. The National Guo Shu program's heyday ran for about a decade, 1927 to 1937.
Here is a photo of bayonet and sword training at the Jing Wu Association, taken from their 1929 yearbook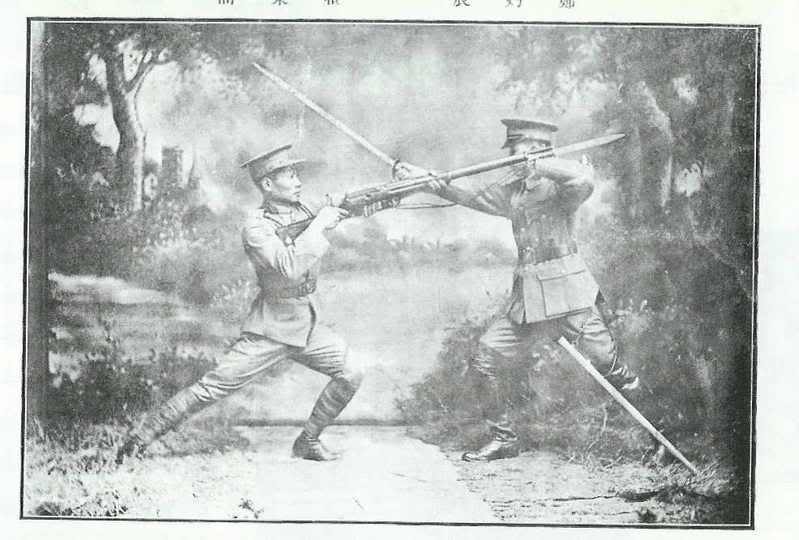 After the dust (and blood) settled from the Chinese Civil War and the Communist People's Republic of China emerged victorious, that government sought to continue the Republican government's National Guo Shu program (fn.7). The Communist government started work on a new National Wu Shu program. When westerners speak of "wu shu" they are generally talking about this project. What the National Wushu program sought to do was create more physically demanding routines that involved a lot more gymnastic moves and convert Chinese martial arts into a high level competition sport in line with such related sports as figure skating or gymnastics. The Communist wushu program also made a pointed effort to remove the fighting applications and combat aspect from the training. These changes took place in 1959 to 1961 and continue to this day. Wushu could perhaps be described as a very physically demanding type of folk dance or floor gymnastics with movements derived from traditional Chinese martial arts systems. Which brings us up to the 21st century.
The Jing Wu Assocation's place in Chinese martial arts history is a pivotal one which marks the transition of Chinese martial arts from being from manual trade associated with the military, militias and bodyguards to being a form of cultural recreation. The reality is this change would have occurred whether there had ever been a Jing Wu Association or not, but the Jing Wu Association did come into existence and its brief existence does mark a major transition between the two fundamentally different approaches to Chinese martial arts; martial arts as combat versus martial arts as recreation.
Here are the footnotes to this page:
Fn. 5: In saying this we are not saying that martial arts was not a business in pre-modern China; it was very much a business. Which is one of the reasons martial arts techniques or training methods were not publically for sale; they were viewed as "trade secrets" which were shown only to those whom the teacher trusted with them. The idea that Chinese martial arts was not a business is very much a modern western idea that has no basis in reality.
Fn.6: We use the term "envisioned" because by the time the National Guo Shu project was coming to life much of China was already sunk into Civil War and/or being subject to the depredations of the Warlord Period, the result being that many Republican plans were stillborn, including to a large extent, the National Guo Shu program.
Fn.7 National Guo Shu ([FONT=&#26032]國術[/FONT]) Guo Shu literally means "National Arts", it was the phrase used as a generic term for Chinese martial arts during the Republican period from 1911 to 1949. In contrat Wu Shu ([FONT=&#26032]武術[/FONT]) literally "War Arts" is a phrase most commonly associated with the Communist Chinese governement martial arts programs. Although it should be noted that wushu in a more general sense simply means martial arts.