Sr. Grandmaster
MT Mentor
Joined

Aug 21, 2003
Messages

14,960
Reaction score

312
Location
Chastity Bono announces sex change

LOS ANGELES – Chastity Bono is having a sex change to become a man.

A spokesman for Bono, born a girl to Sonny and Cher, says he "has made the courageous decision to honor his true identity" and began the sex-change process earlier this year.

Publicist Howard Bragman said Bono is proud of his decision and hopes "that his choice to transition will open the hearts and minds of the public regarding this issue."

The 40-year-old writer, activist and reality-TV star came out as gay 20 years ago, Bragman said.

In the book "Family Outing: A Guide to the Coming-Out Process for Gays, Lesbians, & Their Families," Bono describes the realization of being "somehow different — specifically different from who my mom expected me to be."

(more here)

http://news.yahoo.com/s/ap/20090611/ap_en_ce/us_people_chastity_bono
Gee I dunno, I remember watching the Sonny & Cher Comedy Hour as a kid and remember the cute little girl whenever she came out on stage to be with mommy & daddy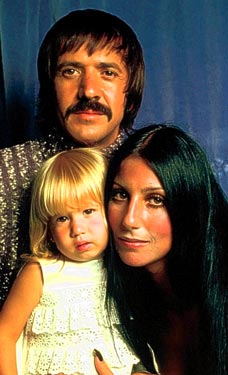 So, somewhere down the line she got the idea that she is a boy and now wants the operation to make it so.
Now personally, if a person decides they're gay... then fine, that is their choice and it's their life... but I do have a problem with gender re-assignment because it's NOT the body you were born with and that is definitely going against nature.
There are times when I feel feminine but it doesn't mean that I need to change the sex that I was born with.
I'm sorry I think this is a very bad idea.