Joined

Nov 23, 2007
Messages

486
Reaction score

46
Location
Okay, I had posted this to the Uechi Ryu Forum, but i'm interested on what perspectives we'll come from uechi and other Martial artists on this forum.
I'm going to use the spelling boshiken, as that is what is on a website I maintain for a former teacher, but I'm open to discussion on proper spelling and why.
Now, on to usage…been doing some conditioning work, and I'm curious as to the proper striking surface for a boshiken, particularly the thumb strike surface.
I did some web research as well as trying various things, and found three mainly noted options, one of which is just wrong (IMO). Of course, I am only trying to work and figure out things, so I'm looking for the opinions of other newbies as well as experienced Karateka and teachers.
The first was pulling the thumb back so that it was just fingertips and tip of thumb that are the striking surface. That just seems wrong and more of a palm strike to me (or I've been advised that is more of a kakushiken or "crane's beak").
The second was the the first joint of the thumb. So the striking surface is the finger tips and the point where your thumb joins the hand. I can see and feel strength here as it seems to align the bones in your hand and wrist. It's a bit harder to get the angle right if you are striking forward and seems to lend itself more for striking up and/or in (like the double boshikens in Sanchin). But it looks like it could encourage risk of a sprained thumb injury through force of impact, similar to but in a different direction from "skier's thumb", as noted here:
http://www.nigoalkeeping.com/Home/Treatment.htm
(about ½ way down this long page under "sprained thumb injury explained"

The third option was the fingertips and second joint of the thumb (bend of 1st metacarpal and 1st proximal phalanx, as best I can tell from this diagram):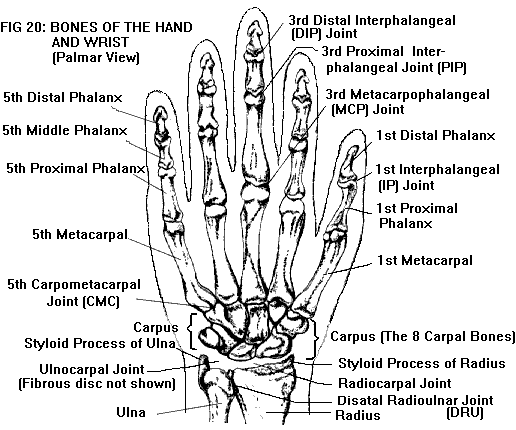 This seems to be easier to align the joint and support it with the palm, but easier doesn't always mean right. I can also see the risk of jamming the thumb as well. In practice, I found I had to really hold the thumb firmly against my palm or it simply felt...wrong and could hurt like crazy!
It occurred to me that women's hands, on average, tend to be smaller and sometimes longer/thinner. I'm not sure that equates to more fragile, but it's something to consider.
So what, in your opinion, is the proper striking surface on a boshiken, for strength and proper application? I've been taught both of the last two methods and seen both and a few other variations used by the same karateka in a single kata…so is one more "right" than the other? Is it as much application as what "works" for the karateka?
Glad to have time to post again and hear from the great folks here!