Joined

Feb 10, 2016
Messages

70
Reaction score

16
Location
I pretty much have taken the idea from that lineage website etc Feel free to post your lineage and see where it traces to. IMO it is very important to know where your specific Martial Art comes from. You don't want to learn from someone who learned from some guy in the back of a laundromat. How you post it is up to you. You can post a picture, video desribing your lineage, or you can just type it out.
When giving the information, you do NOT have to provide their titles, example just as master, grandmaster, hanshi etc... Their names should be sufficient imo if you are taught by someone legit. A "title" does not make you legit. For example, I know a guy, that was an orange belt at the karate school I attend. At our school we dont promote fast so I guess he got frustrated and left went somewhere else.... that was like 4 years ago... all of a sudden he's being called "Master ......" I wont put his name out there not my concern but that was basically the example of how titles can be very misleading.
I'll give a quick example of my shotokan lineage:
Gichin Funakoshi ----> Teruyuki Okazaki ----> Maynard Miner ----> George Cofield ----> Thomas La Puppet Carroll ----> Victor Rodriguez ----> Maribel Ramos ----> Javier Guzman
I also train with my teacher's teacher, V. Rodriguez. He is also student of Vincent Cruz and Victor Mosquera. Those lineages goes as follows:
Gichin Funakoshi ---->Isao Obata/Hidetaka Nishiyama ----> Vincent Cruz ----> Victor Mosquera ----> Victor Rodriguez ----> Maribel Ramos ----> Javier Guzman
Here is a pic to help out further explanations: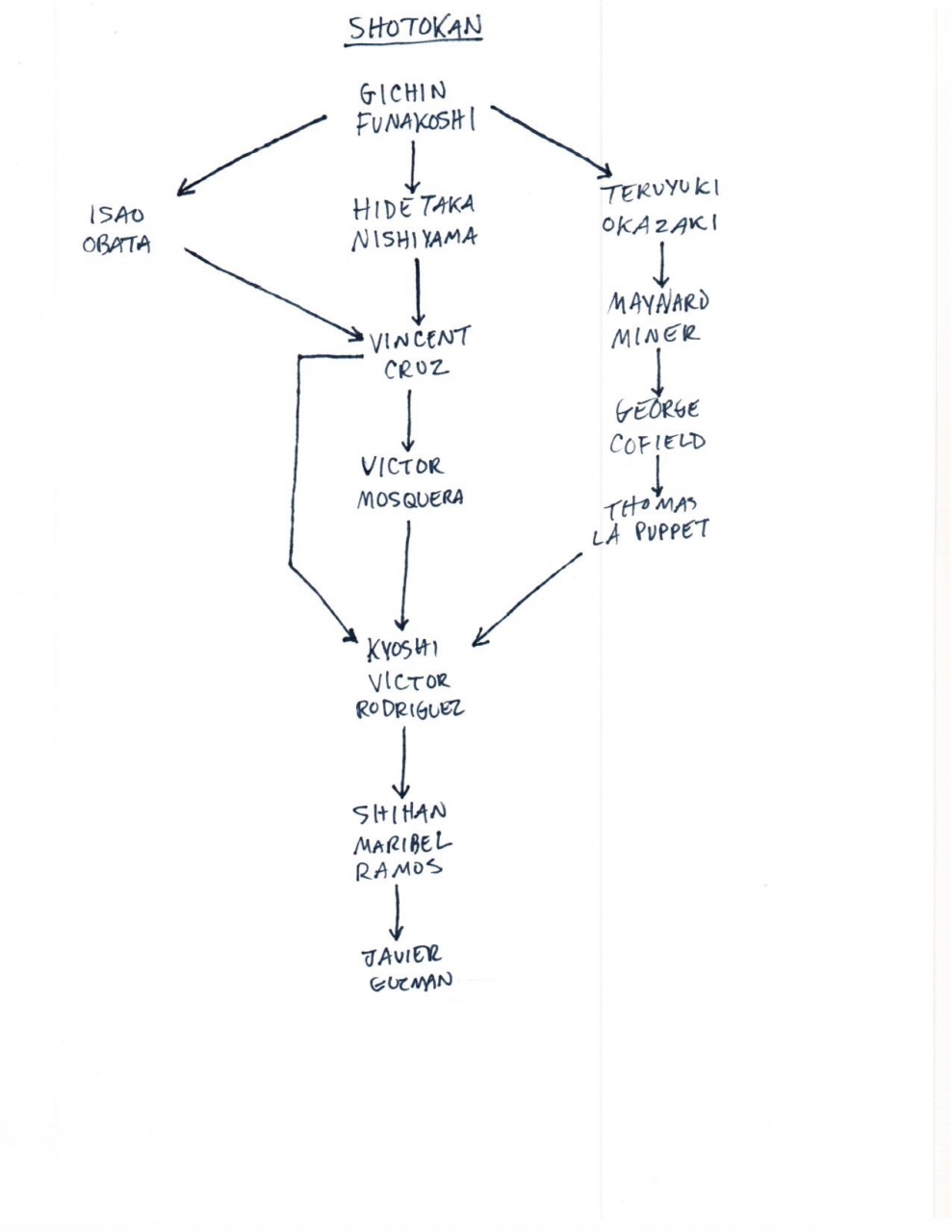 So feel free to post and share! Maybe you'll run across someone that has trained in the same system/style you do or even from the same family tree! Osu!