Joined

Sep 11, 2006
Messages

7,128
Reaction score

6
BaHad Zu'Bu Ilustrisimo & Master Yuli
By PG Michael B - Mon, 26 May 2008 00:09:41 GMT
Originally Posted at: FMATalk
====================
BaHad ZuBu Ilustrisimo & Master Yuli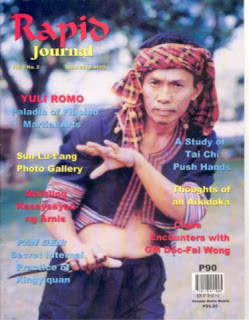 Ang Dakilang Guro Yuli Romo
Born on April 23, 1949 in Pilar, Camotes Island in the province of Cebu, Philippines, Grandmaster Epifanio 'Yuli' Romo was introduced to the Filipino Martial Arts from a very early age. During the early 1900's, the FMA were extremely popular and the most famous families of warriors within the central Philippines were the Romos, Saavedras and the Ilustrisimos. It was during this golden era that Grandmaster Islao Romo, a highly revered teacher and fighter, defeated many famous masters from other systems. Grandmaster Yuli learned the revered blade-based system of his famous Great Uncle Islao Romo from his uncles Pedring Romo and Pael Aviles. Grandmaster Yuli is the current heir to this system.
As a teenager, Grandmaster Yuli studied the art of the famous rebel hero of the Filipino-Spanish War of Independence, Soferino "Kapitan Perong Pak-an" Borinaga. Known as the Repigada-Pigada system, this family art was eventually passed to Grandmaster Kikoy Boringa, who taught the young Yuli Romo during the 1960's. Grandmaster Yuli is the only inheritor of the Repikada-Pigada system.
Moving to Manila during the early 1970's, Grandmaster Yuli trained in the Balintawak Eskrima system with Boy Ursal, a senior student of the respected Cebuano teacher, Grandmaster Joe Go. Eventually, Grandmaster Yuli returned to Cebu to learn directly from Grandmaster Joe Go. As well as studying Balintawak Eskrima, Grandmaster Yuli also learned the empty-handed system of Tat Kun Tou and the long-staff system of Bio-Olisi, which is now known as Palakaw-Banate, or simply Banate.
Grandmaster Yuli commenced training with Grandmaster Antonio 'Tatang' Ilustrisimo during 1976, approximately three months after the current head, Grandmaster Tony Diego had started training. As Grandmaster Yuli recalls, during the early days training with Tatang was both painful and fun. Constantly observing Tatang in action and taking notes whenever possible, Grandmaster Yuli noticed how Tatang reacted to the positioning and speed of the attacker, applying an infinite variety of counters according to the circumstances at that time. Grandmaster Yuli is acknowledged by his peers as the second most senior student of Tatang and is one of the original "Five Pillars" of this highly revered warrior art.
After a lifetime of development and evolution within the Filipino Martial Arts, Bahad Zu'Bu Ilustrisimo was born on 23 April 2000. Incorporating and including all of the core concepts and fighting strategies of Grandmaster Ilustrisimo, Bahad Zu'Bu Ilustrisimo is also influenced by the Romo Eskrima system and the Repigada-pigada system of Soferino Borinaga. Weapons categories within this well-rounded martial art include the use of the barong, kampilan and kris swords, four-foot and three-foot staffs, single and double cane, single and double knife, sword and knife and handkerchief. The empty-hand techniques are influenced by the techniques of Grandmaster Ilustrisimo and Grandmaster Joe Go and within the lubas pangamut, or hard-core empty-hand system, are included boxing, kicking, trapping, grappling, throwing, choking, strangling and off-balancing techniques.
Read More...
------------------------------------
FMATalk.com Post Bot - FMA Feed