Joined

Jul 9, 2008
Messages

21,432
Reaction score

6,940
Location
As I said, in BJJ, it is "Brazilian Jiu-Jitsu", that much is definitively correct... however....

If it's a Japanese art (BJJ isn't), then it's Jujutsu. As far as your name, Steve, that's also not really correct... commonly, if you're speaking in a different language, you are able to (in cases, encouraged to) alter your name to suit that language. In Japanese, my name is クリス(Kurisu), not Chris. In French, it's Christophe. You may be American, but you're not dealing with English at that point.

No it's not. Brazilian Jiu-Jitsu is a Brazilian grappling art, focusing on ground work, but jiujitsu is not necessarily that. Gracie Jiu-Jitsu is one subset of BJJ.

No, it's not. It is a Japanese loan-word. Same as sushi... or, are you going to suggest that, when you have sushi in an American based Japanese restaurant, it's no longer a Japanese word?

What is has become is a Brazilian-ified (hmm, not sure if that works...) version of the Japanese term (note: not a Portuguese version), and has come to represent (in this instance) the body of systems and approaches for what is known as BJJ. And, in that sense, it's spelt correctly. But to claim that it's not a Japanese word is just, well... wrong.
Okay. Hold on. If you choose to alter your name, that's one thing. But, one's given name is just that. Your name is Christopher. My name is Stephen. I go by Steve.
Ultimately, though, it seems that names weren't a perfect analogy. Etymology is an interesting field of study, and English is a complex language with many influences. When William the Conqueror invaded England in 1066, he brought a strong French influence into our language. Many English words have a French root, and while one could say that they were "borrowed," that in no way means that the word now is the same as the French word. In some cases, the English word no longer means precisely what the French word did (or does.) He and his court are largely responsible for bringing us from Middle English into the English that more closely resembles the language we all speak today.
For example, there are many words we use every day in English. The words are English words and have English meanings, even though these words came from old King William and those pesky Normans. Cinema is a common English word, taken from the French word cinematographe, which was a term taken from ancient Greek (kinema).
Or what about the term, "a la mode?" In English, the derivative does not mean the same thing as in French. In America, specifically, "a la mode" refers to adding scoop of ice cream to a piece of pie.
"Amateur" is another English word with roots in French. In the French language, it's a much more general term for someone who loves an activity or does it "for the love of" it. In American English, the term is much more specific and used as the synonym for a professional. It typically refers to someone who is not paid, but can also refer to someone who isn't very good at the activity. The word is an English word. It's pronounced differently than it would be in French, and it has a distinct definition that is not the same as its root.
Sushi is indeed an American word borrowed from the Japanese, but I would suggest that American Sushi is NOT what you would typically find in Japan. In America, the term "sushi" refers to a uniquely American experience that overlaps with the Japanese experience in some ways. One is not better than or worse than the other. But they are different, and in America, if you went to a sushi restaurant expecting a very Japanese experience, you would be disappointed in the same way you would be expecting actual Chinese food in a Chinese restaurant.
So, in this way, sushi said in America is an American word used to describe an Americanized dining experience.
Also, if anything, Brazilian Jiu Jitsu is the subset of Gracie Jiu Jitsu. While it's true that Oswaldo Fadda lineage is alive and well, all but a very, very few Jiu Jitsu black belts trace their lineage in some way back through the Gracies. In modern usage, most people use the term Brazilian Jiu Jitsu to indicate that they are not directly affiliated with the Gracie family. However, BJJ... particularly in America, stems from GJJ and not the other way around.
Finally, Chris, have you ever see this famous painting by Rene Magritte? It's called the Treachery of Images. The caption, "Ceci n'est pas une pipe," is an integral part of the piece. Translated, it means, "This is not a pipe."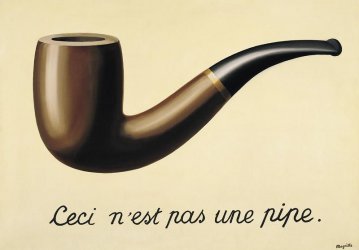 This painting came to mind as we discuss symbols. One might say that it is clearly a pipe, but it's not. It's a picture, a painting. And, really, this is even more removed. It's a digital copy of a painting of a pipe. But it's still not a pipe. In the same way, Jiu Jitsu might seem to be a Japanese word, but it's not. Heck, jujutsu isn't even a Japanese word, nor is this:
View attachment $j_jiu_jitsu.jpg
These are symbols that
stand for
words which mean something in the language in which they are spoken. In Brazil, if you say jiu jitsu, it doesn't mean something Japanese. It means something Brazilian. And the spoken word is itself a symbol for the thing to which it refers.