Joined

Mar 30, 2002
Messages

1,514
Reaction score

54
Martialism need not be doom and gloom and preparations for the end times. There's room for fun when you're allowing yourself a rare hour of relaxation here and there. Today I took a break from writing, broke out an airsoft AR15 I picked up at the gun show last time around, and did some living room plinking.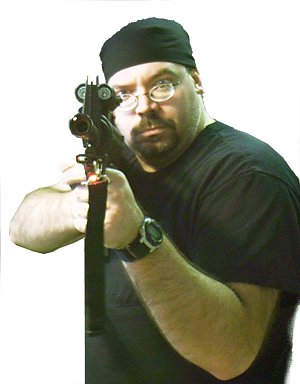 My spring-power AR is fully pimped out with a cheap laser sight and a pair of (oddly) blue "tactical" lights.
The laser's actually not too bad at living room ranges. It aims low, of course, thanks to its position well below the barrel.
After emptying a magazine through the AR, I went and got a couple of my pistols. The transparent Beretta is electronic -- powered by four AAA batteries. It is semiautomatic and even kicks the slide back after each shot, though there's no actual reason for it to do so. It has a grip safety, which I guess is to prevent you from experiencing a negligent discharge while you're screwing around in your living room. I actually managed to do that the other day because I was treating the gun like a toy instead of a tool.
My other airsoft is a plenty cool UHC revolver.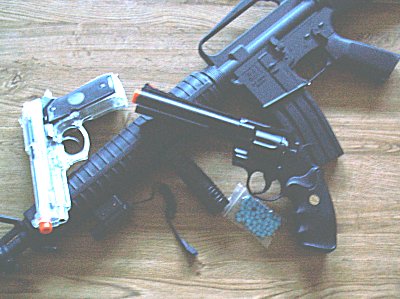 The revolver has a swing-out cylinder that ejects its plastic shells just like a real revolver. The trigger is double-action and rotates the cylinder with each click.
The revolver is spring-powered, and the spring is connected to the trigger -- so you can only shoot single-action because you've got to cock the hammer manually for each shot. This arrangement, however, makes this one of the more realistic spring guns I've purchased. Spring semi-auto pistols usually require you to rack the slide before each shot. Heck, you can even play Russian Roulette with this thing, if you're feeling sort of suicidal but you have a problem sticking with things.