Joined

Feb 12, 2005
Messages

125
Reaction score

5
Location
After a bit of consideration from all criticisms i received on this article, i decided to complete this final draft of it. It includes a little more text, some corrected parts, and more photos. I hope you all enjoy it.
Choosing a Self-Defense Knife
Introduction:
It will always be in your best interest to first find a school of formal knife combat instruction, and that I HIGHLY suggest it before carrying a knife for self defense purposes, otherwise you may just be giving the attacker a weapon with which he can take away from you and kill you. Furthermore, unless you want to spend your life in prison, or at least a large chunk of it for murder, attempted murder, or assault with a deadly weapon, I suggest you deeply research your state's laws on knife and knife-related defense. There are many schools and systems of knife fighting and defense out there, and it will be up to you to find out which one is right for you, so again, do your research. This article is geared towards modern, multi-use knives rather than specialty blades for legal reasons pertaining to the carry and use of such weapons. For this purpose, I will not be including such implements as the Karambit, the Balisong, or other fighting system-specific weapons. So without further ado, let's jump right in.
In today's world, ownership and/or carry of a firearm for personal protection are not always feasible or desirable to the private citizen. Nevertheless, many safety and protection-minded individuals feel the need to arm themselves to be better prepared for the increasing threat of gang members, muggers, and other violent criminals. Some turn to pepper spray, and some turn to stun guns or other modern implements. A considerable many turn to knives. The knife has been around for thousands of years, first as a tool, and soon after, a weapon. Its usefulness as a tool is obvious, but its effectiveness in injuring, disabling, and killing is doubted by few, and feared by many. What is just as appealing is that a knife does not run out of ammunition or jam up. For this reason, many who carry personal-protection firearms also carry a self-defense knife as a backup weapon.
There are many things to consider when choosing a knife to carry for self-defense purposes. This article is written to serve as a general guideline for knife quality, design, and legal compliance, but ultimately, in order to find the perfect knife for you, it is necessary that you spend a decent amount of time in a school or system of knife combat to better understand how you are going to be using the knife, and what kind of knife would best suit the techniques and principles of said system. Furthermore, your needs in terms of design and features will change the more familiar you become with the system and techniques in which you are training.
DESIGN


The design of your knife is extremely important in determining a good self-defense knife. All good self-defense knives are well made from good, tough steels, have sturdy handles, and reliable mechanisms. However, I don't suggest that you just go out and buy something made with what is considered the strongest and most roughneck steel at the moment. You are not going to be putting this knife through any kind of phenomenal, Rambo-like abuse. Remember, it's a Self-Defense knife, not a knife you're going to be using to take apart a space shuttle. There is no urgent need for a Titanium Alloy handle or Frame with an S90V blade, or materials of that nature. These materials may very well be extremely tough, but they are also very expensive, and losing a knife can be somewhat easy when it travels with you everywhere you go. Plus, if you ever have to use it, chances are you will never see it again because it will become property of whatever law enforcement agency is handing your case. So let's stick with something that's easily replaceable.
There are two basic types of knife. The first type is the folder knife, which is characterized by a blade that folds into the handle-frame, where it is housed. When it is unfolded from the frame, a locking mechanism secures the blade in the open position to prevent it from folding or moving freely until you are ready to fold it back into the handle-frame again. The second type is the fixed-blade knife. This type of knife is characterized by a blade that is permanently set into the handle, and does not fold or move. A fixed-blade knife is housed in a sheath, orprotective carrying and housing device, with much of the same principle as the holster of a pistol; to protect the carrier and others, as well as the knife itself. Your choice of folder or fixed-blade depends on your personal preference and/or needs, and may also depend on your local laws.

Columbia River Knife & Tool "H.a.w.k. Dog" Folder
Cold Steel "Peace Keeper" Fixed Blade
There are many steels very suitable for knife blades out there, and there are also steels that have no business being used to make knife blades. Some good tough steels are D2, ATS-34, 154CM, AUS-6, AUS-8, O-1, ATS-55, 1085-95, and 440C.Of course, this is not a list of ALL of the good steels out there, but these are some of the most common. Many will read the last steel in that list and scoff, but rest assured, with proper heat-treating, 440C is a considerably tough steel. I can personally attest to it. The bad rep that 440C gets stems from the fact that most manufactured items made from 440C are made from annealed 440, and are hence soft and easily bent. Properly heat-treated 440C rivals ATS-34 in toughness.
Let's take a look at each one of these steels I have listed.
D2
:
Or its full name,
BS4659 BD2
,
is a high carbon, high chromium, molybdenum, vanadium tool and knife steel that possesses good wear resistance, excellent surface hardness, and good edge retention in knives. Although somewhat more corrosion resistant than 1085 and 1095 carbon steel, it still needs periodic inspection to ensure cleanliness and should be cleaned and coated with a thin layer of machine oil or water displacement solution(WD-40) after submersion or considerable exposure to moisture.
ATS-34
:
The Japanese stainless steel produced by Hitachi Steels®, which exhibits excellent corrosion resistance and very good edge retention. Blades with this steel will vary in toughness from medium to very tough depending on which individual or company makes or manufactures the knife, and how expensive the knife is.
154CM:
American steel company Crucible Steel's answer to Hitachi's Japanese-born ATS-34.
It possesses almost the exact performance qualities as ATS-34, and many consider them to be basically the same steel, but with different manufacturers.
AUS-6:
Is another Japanese stainless steel used in low-medium to medium priced knives. With a carbon content of .65%, it's a little softer than ATS-34, but can be a bit tougher and more resistant to chipping or breakage.
AUS-8:
Is basically the same as AUS-6, but with a slightly higher carbon content of .75%, making it potentially a little harder.
O-1:
Is mainly a custom knife maker's steel. It is very tough, is easy to sharpen, and holds an edge very well. Its only drawback is its high susceptibility to rust. Regular cleaning and coating with oil is required to minimize corrosion.
ATS-55:
The molybdenum-free version of ATS-34. It also has some other elements added to the makeup of the steel, giving it the edge retention of ATS-34, with slightly increased toughness.
1085-1095:
Simple carbon steels with high carbon contents of .85% and .95%, respectively. They perform well, but rust easily. Again, maintenance cleaning and care is necessary to avoid corrosion. They can be quite brittle due to the high carbon content, which is why differential tempering is important to maintain toughness. Differential tempering is a process which hardens parts of the blade (usually the edge) to a higher RC rating than other parts, yielding a harder edge for cutting and edge retention, and a softer back or other region to allow for shock absorption and break-resistance.
440C:
Is a stainless steel with a carbon content of roughly 1.2%, and a high chromium content that makes it very rust resistant. Properly hardened 440C is ideally rated at 56-59RC, and is an excellent lower-cost utility steel. It resists breaking quite well despite its high carbon content. Some lament it's edge-holding capabilities, claiming that it does not hold an edge as well as other steels, but I personally believe this is due to inadequate heat-treating by the manufacturer.
One or two manufacturers, such as Spyderco, most commonly use some of these steels, like the ATS-55. 1085-1095 is mainly used to make fixed blade knives, so it will be hard to find a folder with a 1085 or 1095 blade.
There are other knife steels being commonly used today in high-end production knives, such as VG-10, S30V, S90V, and BG-42. These are indeed quality steels, but should only be sought after if you intend to pay a fairly hefty amount for your knife. The cheapest knife I have seen made from any of these steels sold for at least $55. I guess I couldn't really argue that this is expensive, since it's really not that expensive, and since my personal everyday-carry knife retails for $125, but my knife was won with a raffle ticket that cost a whopping $10.
The handle material of a self-defense knife is not so important as the handle SHAPE of a self-defense knife. I do, however, suggest something good and sturdy, such as G-10 (G-10 is an epoxy based laminate) or another material that is reasonably tough with a good gripping surface. The reason why the handle SHAPE takes priority over the handle material is simple. Fit and Safety. How well does it fit your hand, and how likely is your hand to slide onto the blade during a stab or thrust? Is it easy to get the proper grip on the handle without having to consciously pay attention to it? Since every person's hand is different, this is something you will have to figure out on your own.. I will say, however, that a good indication of a practical handle shape for this reason will be one that has a finger groove for the index finger. The Gerber Gator Lockback pictured further down in this article has a good example of this finger groove. The reason for this is that the groove will provide support, or a sort of "no-slip" zone for either your index finger during a thrusting motion, or your pinky during a stabbing motion, both of which respectively take the majority of the force of the stab during these motions. To say it a little more clearly, your index finger will bear the majority of the energy in the thrusting motion, and your pinky will bear a majority of the force in a backwards-grip stabbing motion, although not as much if you are using your thumb over the end of the handle for support and power. The gripping quality of the handle is important, also. Some handle materials have natural gripping qualities, whereas the surface of others needs to be checkered or altered to make them more graspable. Some knives even have grip inserts, such as textured rubber or a material similar to skateboard tape. Length is also an issue, and this is another thing you will have to determine on your own, since hands come in all shapes and sizes. Generally, the handle butt should protrude ½ -1 inch from your hand, to allow for adequate finger room and maneuvering.


Next is the Blade Design. A good blade design will be one that is decently thick, with the tip being wide enough or strong enough to resist breaking if you were to, say, accidentally punch it into a hard surface such as a brick wall or asphalt. However, the tip should also be able to easily pierce any part of the human anatomy, so design is important here. I don't personally recommend Chisel-like, or box-like Tactical Tanto tips. They don't pierce quite as well as other types of tips, and real tanto kissaki (blade tip) did not and do not look anything like what you see in these Pseudo-tactical blades of today, so my advice is to avoid them. Many will argue that the Americanized tanto tip offers durability that other point types cannot match. I have found that you can still have a good sturdy tip without compromising piercing capabilities as much as you would with the tanto by simply going with a design that has what's known as a "bull-point" or a point that is not as narrow as many knifepoint types. With many tactical tanto blades today, there is an angle near the tip (shown below) that can cause some resistance in piercing.

(Above) The angle near the tip of the tactical tanto causes some resistance in piercing compared to other designs
.
The Shape of true traditional tanto. As you can see it bears somewhat of a resemblance to the shape of a typical fillet knife, although obviously with a thicker blade and wider width.
I advise that you treat a knife fight as a life-and-death situation, because that is exactly what it is. You want to end it as quickly as possible, and if you do not have a good tip on your knife, or if the tip is broken, you will probably have to rely strictly on slashing, which is basically the hard way. Generally, the choice of blade shape and design is dependant on how you intend to use it. Certain blade shapes and styles are better employed by some knife combat systems than others. For instance, a claw blade, such as that on a Spyderco Harpy (pictured below), is better employed in slashing and ripping techniques rather than stabbing and thrusting, whereas a dagger is more suitable for stabbing and thrusting techniques.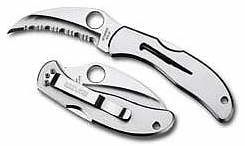 The Spyderco "Harpy"
Blade length is something that depends heavily on your local laws. Most states have a length law, meaning that you cannot legally carry and/or conceal a knife with blade that is longer than the established regulation length. I recommend a blade length of at least 3.5-4 inches, if allowed. If your state has lower length limits, go with the maximum length allowed. The longer the blade, the deeper the stab and the more able it is to hit vital organs and arteries. Blade-to-handle length ratio is something to consider also, since a longer handle provides you with more leverage.

Edge is something that has been up for debate for some time. It's basically a situational choice. If you are a skilled knife-sharpener, then you may want to go with a plain edge. If you have trouble putting a keen edge on your knives, you may opt for a serrated or partially serrated blade. Many prefer the "combo-edge" or a knife with an edge that is half plain, and half serrated. Either way, you are going to want something that will cut very easily and very deeply. If you have to use this knife on someone, it is because you intend to STOP him. And let's be realistic, you want to be able to do this as quickly and easily as possible, which will usually mean doing as much damage as possible with every contact the blade makes with the attacker.
The sheath, or scabbard, is another thing to take into account when choosing a knife, if you are choosing a fixed blade. The sheath should be able to fit comfortably and discreetly in the place of your choice, and should allow for quick release and access to the knife. The sheath should also fit the knife well. It's not the most desirable thing to have a knife what wiggles around and moves freely within it's sheath, especially if you are carrying it on a day-to-day basis. It can be uncomfortable, and in some instances, it can make noise. Many prefer sheaths made from KYDEX®, a durable thermoplastic that can be heat-molded around the blade and guard of the knife for a perfect, glove-like fit. The tactical advantage of KYDEX® is that there are no security straps to hold the knife in, hence the knife can be pulled from the sheath with minimum delay, and the knife can be worn in positions with a KYDEX® sheath that would normally cause the knife to fall out of a leather or nylon sheath without a security strap of some sort. KYDEX® is also used in making gun holsters for this very same purpose.




The last major factor for consideration in knife design is only applicable on folders. That is the locking mechanism. This is particularly important, because without a strong locking mechanism, you run the risk of severe personal injury to yourself should the mechanism fail or collapse. All Locking mechanisms have their drawbacks and weaknesses, and should each be examined carefully.

There are 3 basic types of locking folders.

-Lockback
-liner lock
-frame lock

Many Lockbacks can be eliminated completely from your options for the simple fact that it takes two hands to open and close them, and with speed and ease of deployment being a priority in your choice of knife, it's easy to see why you would generally want to avoid these types of knives. The knives you want to avoid in this category of locking mechanisms are knives such as W.R. Case's pocketknives, and Buck's Folding Hunters. They require two hands to open and the entire folding mechanisms are quite stiff. There are, of course, lockback knives that are quite easy to open with one hand, given that you can master the technique of "snapping the wrist". Gerber's first incarnation of the Gator, the 650 model, can be opened easily with a snap of the wrist.
The Gerber "Gator" Lockback


The Liner Lock is used on many folders today, and often requires only one hand to open the blade via thumb stud or hole in the blade. The only drawback is that Liner Locks tend to malfunction after a while, usually causing some degree of injury to it's user. Regular utility use of a liner lock is discouraged to avoid wear and tear that would increase the likelihood of such an occurrence, if you wish to use it for self-defense.

Kershaw Liner-Lock

The Frame Lock is my personal choice for a self-defense folder. It is important, however, that you take a few things into consideration with a frame lock. There are good and bad frame locks. Simple common sense will serve you well here. Look at the lock. Does it LOOK sturdy? A good frame lock is just as thick if not a little thicker than the rest of the handle. A good frame lock should have a handle made from a sturdy material, since the lock is part of the frame (hence the name). If this is not the case, the lock should then at least be reinforced in some way. When examining a frame lock, look at the lock when it is engaged. Does it line up well with the blade when engaged? A good frame lock will line up very nicely, if not perfectly, with the blade. A frame lock can be very sturdy, but regular inspection is needed to ensure that the lock is in good condition and still lines up well with the blade when engaged. When the lock is no longer lining up well with the blade, or displays signs of questionable wear, either replace the knife, or have the manufacturer repair or replace it.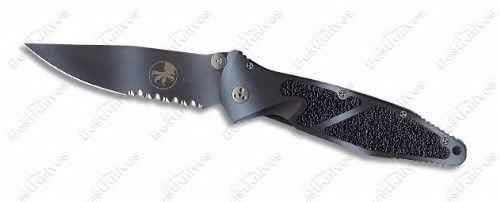 Microtech "Mini-SOCOM Elite" Frame Lock
Some manufacturers have chosen to design and implement their own proprietary locking mechanisms, but I have yet to see any quantifiable proof that any of these locking mechanisms are vastly superior to the 3 basics I just covered. I do, however, encourage you to try out these proprietary locks for yourself and decide how well they suit you.
Another feature on many folders to consider is the pocket-clip. The pocket clip is a small steel or other metal clip attached to the side of the handle frame of a folder. They come in many different styles and materials, varying from model to model. 300-303 Stainless steel seems to be the most popular material of choice for pocket clips. They are reasonably sturdy and resist bending. The most common two types of clip are the normal clip, or "tip down" where the opening of the clip points toward the end of the handle frame and the tip pointing downward when in the folded position, and the backwards clip, or "tip up" where the opening of the clip points toward the folding mechanism of the blade and the tip points upward when in the folded position.. This is also an area of choice based on preference. I personally prefer the backward clip because it's quicker and more convenient for my deployment technique.



LEGALITIES


A knife is classified as a deadly weapon by all 50 states in the USA, and rightly so. A knife can kill people. It can kill people VERY easily. Thus, it would only make sense that in order to consider carrying one for self-defense, you need to know your law. Research your state and local laws on knife defense, carry, size-limits, and general usage before deciding to carry for the purpose discussed in this article. Failure to do so will almost surely result in serious legal trouble for you should you ever use it on someone, and depending on what kind of knife you have and whether or not it's concealed, failure to research your local law may even result in legal trouble if you are just carrying it on your person.

That being said, let me explain a couple of things to consider that are not written in law books.

Earlier in this article I wrote extensively on the design of a knife for practicality purposes. What many may not know is that design applies as much to the legal side of carrying and using a knife as it does in the practical and effective use of it. Of course, it's common knowledge to anyone familiar with knives that length and opening mechanisms are legal issues, but let's look a little deeper than that.

Let's say you used your knife in a self-defense encounter. The cops show up, arrest you, and the attacker is carted off to the hospital for treatment. When the case goes to trial, your knife will be evidence presented before the jury. The look and name of your knife are very important here.

An aggressive looking knife with an aggressive sounding name may be
perfectly legal by the books, but it may not go over very well with the jury deciding your case of self-defense. You are much more likely to get off on a self-defense ruling if you defended yourself with a "Remco Model 3 Fisherman" with a plain, non-coated blade and simple handle, than if you were to use a "Falcon Deathstalker X" with the skullbuster pommel and urban camoflaged blade.


My point is that a jury is going to take a look at a simple, inconspicuous utility knife with a simple non-threatening name, and be more inclined towards a self-defense ruling. If they look at a knife that has a malevolent look and name, they will be more inclined to view you as a violent and unstable person who was just looking for an excuse to cut or stab someone.
My suggestion is to choose a general utility knife that has an inconspicuous name and appearance. This will save you a lot of grief in the long run, and could very well make the difference in you spending time in jail or getting off on a self-defense ruling.
A fight involving a knife is most always ugly, quick, and messy. The knife you choose to employ if such a situation occurs can have a direct impact on whether you live or die. A knife that is comfortable to handle, easy to hold onto, and easy and fast to access and deploy is what you should look for.
Always remember that arming yourself with knowledge before arming yourself with anything else is the most important preparation for effective self-defense that you can make.
-ER