MT Senior Moderator
Staff member
Lifetime Supporting Member
Joined

Sep 3, 2009
Messages

20,614
Reaction score

7,002
Location
I've posted before that my EDC is a Glock 19. But it's not my bedside gun. To my mind, there are a lot of differences between a gun I carry all the time and one that is intended solely for home defense.
My bedside gun is a Glock 41. The G41 is an extended slide polymer handgun chambered in .45 ACP. It has 13 round double stack magazines and when I bought mine, it came with three mags.
Here's Mrs Dog with the bedside gun.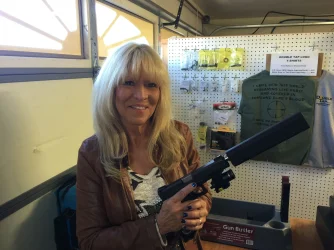 The mods:
I chose fiber optic sights rather than tritium, because while I might fire in low light, I would NEVER fire in the dark. How would I know what I was shooting? I don't think there's any significant difference between major brands, so while I strongly endorse the use of these sights, I don't recommend any brand.
The TLR-4 is an under-barrel flashlight and laser combination. It can be set to turn on the laser, the light, or both in either a locked on or "pulse" manner. It fits well, the laser is easily adjustable for height and windage, and the whole setup is rock solid. It's removable via thumb screw. It's an excellent choice.
I've never cared for the stock Glock trigger. They're typically 6-8lb pull, which I think is too heavy, especially for a bedside gun. While 2lbs is not a good choice for carry (it would be too easy to catch your shirt in the trigger while holstering and shoot yourself...) it's excellent for a range toy or bedside gun. The lighter, crisper pull makes it easier to remain on target and thus makes follow up shots quicker and more accurate. It's a drop in system, and if you can detail strip a Glock, you can install it yourself.
The Lonewolf extended/threaded barrel supports the addition of a ported muzzle brake or a suppressor. It is fully drop in, comes with a thread protector. If you can't figure out how to install it, you shouldn't be shooting.
One of the reasons I chose this gun in the first place was that the .45 ACP is and always has been a sub-sonic design. This matters because I always intended to suppress this gun. There are two major noise makers when a gun is fired; gas expansion and a sonic boom. Sub-sonic rounds eliminate the second. The Osprey 45 deals admirably with the first.
The Osprey 45 is a multi-caliber suppressor. It is also a rectangular design, offset to the bottom, so it does not interfere with the use of the open sights. Nor does it interfere with the light or laser. The baffles can be filled with water or a specific gun-goo to further suppress firing noise, but I have never done this.
I chose to suppress the gun for a number of reasons.
1 - If I ever do need to use it, I will not have ear protection on, and I'd rather not destroy my hearing.
2 - The weight on the end of the barrel, combined with the controlled gas expansion, helps decrease muzzle flip. Combined with the light trigger, this makes follow up shots MUCH faster as well as more accurate.
3 - I like gadgets!
This is me, single handing the G41 at the range, with no particular effort to shoot fast. The group from this clip was about 3" across.
As you can see, despite the nonsense in the movies, a suppressor is NOT a silencer. It doesn't make a gun sound like a quick fart. It still sounds like what it is; a gun shot. However, even without filling the baffles, the Osprey 45 makes firing a handgun without hearing protection perfectly safe. You will not damage your hearing, nor will you have any ringing.
There is a lot of misinformation about obtaining a suppressor. The process is actually quite simple. It's not fast, because you're dealing with a government bureaucracy, but it's simple.
1 - Find a dealer who sells suppressors and buy one. This is done first because you need the serial number for the paperwork.
2 - Fill out the paperwork the dealer gives you.
3 - Get it signed by your local Sheriff, Chief of Police, or a Judge. Or set up a gun trust.
4 - Mail all the paperwork to the BATF with a check for $200.
5 - Wait while they process it, send it over to the FBI for your background check, fold it, spindle it, file it, lose it, find it, file it, lose it a few more times and then send it back.
6 - You'll get it back with a tax stamp. You can now bring the suppressor home. It took me about 4 months to go through this process.
You do need to keep a copy of the paperwork with the tax stamp with the gun. I have a copy in the bedside safe, and one in my range bag.
You cannot lend it to your buddy to try out at the range unless you are there with them.
If you travel, you have to check local laws (which is true regardless). I've had no problems traveling with mine in a custom Pelican case (reviewed elsewhere on this site).