Retired
MT Mentor
Founding Member
Lifetime Supporting Member
MTS Alumni
Joined

Aug 4, 2001
Messages

47,245
Reaction score

769
Location
Review: Reclaiming The Blade - Reviewed by Bob Hubbard
Reclaiming The Blade
Reviewed by Bob Hubbard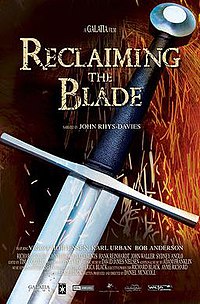 Directed by Daniel McNicoll

Produced by Erica Black
Narrated by John Rhys-Davies
Starring Viggo Mortensen, Karl Urban, Bob Anderson
Music by David James Nielsen
Distributed by Galatia Films Home Entertainment (US)
Release date(s) July 7, 2009 (United States)
Running time 78 min.
Country United States
Language English
Galatia Films, LLC
www.galatiafilms.com
864.654.1180
For International Sales Information, please contact:
Vision Films
www.visionfilms.net
818-784-1702
"The Medieval and Renaissance blade, a profound and beautiful object handcrafted by master artisans of old. An object of great complexity, yet one with a singular use in mind- it is designed to kill. The truth of the sword has been shrouded in antiquity, and the Renaissance martial arts that brought it to being are long forgotten. The ancient practitioners lent us all they knew through their manuscripts. As gunslingers of the Renaissance they were western heroes with swords, and they lived and died by them. Yet today their history remains cloaked under a shadow of legend."
Thus reads the marketing release for Reclaiming The Blade, a 78 minute look into the lost European fighting arts of the medieval period, now being rediscovered and reexamined by martial arts experts and enthusiasts around the world. Often overlooked by historians, Hollywood and martial artists, the history of combat in Europe is as fascinating as the arts of the Far East.
I was invited to review a copy of the 2-disk version by Erica Black, Producer and Director of Photography for the video. During my long review of the video she was available to answer my questions as they arose.
Reclaiming The Blade is narrated by actor John Rhys-Davies of Indiana Jones &, Lord of the Rings fame and features Viggo Mortensen (Lord of the Rings), Karl Urban (JJ Abram's Star Trek) and famedsword-master Bob Anderson whose work through out the industry in epics such as Star Wars, Pirates of the Caribbean, Princess Bride and many others. Also appearing are


Experts featured include John Waller (Robin Hood, First Knight, Royal Armouries), John Clements (Association of Renaissance Martial Arts), Dr. Sidney Anglo (Warburg Institute, University of London), Jonathan Waller (London Academy of Theatre, Royal Armouries), Tom Urso (World Kumdo Association), Hank Reinhardt (Museum Replicas Ltd. HACA), and Dr. Lee Jones (Ethnographic Sword Resource). About the only expert missing from this ensemble was British military historian Mike Loades.
The film explores both the European and Asian sword arts, but it's shining grace and main point is the forgotten magnificence of the European arts. As complex and deadly as their better known Asian counterparts, the history of warfare in Europe required deadly arts, deadly weapons and skilled warriors to do battle. Little is known about them, with much lost to the tides of time. However, recent re-interest in these forgotten arts combined with better technology and new discoveries is opening the doors to the techniques and skills of our European warriors in fantastic ways. This video is a wonderful look at these arts, and those who study them today.
With that said, lets dig into the video.
Video Quality
The quality of the video was excellent. I watched it on a blue ray player upscanning it for viewing on my HD flat screen. It upscanned very well with minimal jaggies. The cut scenes looked phenomenal. While not available in a BluRay format, I can see this working very well in that format, especially when showing the detail in ancient arms and armor.
Packaging
Packaging was professional, what you would expect from a quality dvd today. My only complaint was that my disks weren't numbered causing some confusion on which was the film and which had the extras. I was told this was an issue with some of the screener copies and that the retail release has unique labels. Minor complaint.
Audio Quality
My biggest gripe with the film is the inconsistency in sound quality. Some scenes were beautifully crisp, others muffled. Some outdoor scenes picked up wind noise. Indoor scenes varied in crisp, muffled, and a few were a little tinny or echoed. This detracted from an otherwise excellent experience.
DVD Menus
DVD menus were quick to pop up, easy to navigate featuring play movie, scene selection and some setup options which allowed for selection of Dolby 5.1 or 2.0, English subtitles, and directors commentary. Extras dvd is standard extras menu.
Soundtrack
The soundtrack is very moving, fitting the concept quite well, and imparting some nice emotion to the scenes, drawing you in and helping to immerse you in the film. A combination of a moving orchestral score by composer David James Nielsen and rock hits from the Doves, Yo La Tengo, The Dandy Warhols, and Juliana Hatfield, this is listenable on it's own. If your a fan of movie soundtracks, give this one a listen.
Content
Here's the important part. Pretty packaging, nice music, cool effects and clear picture are all great, but only really matter if the content delivers. Does it?
In a word, Yes.
One of the factors I look for when watching video is re-playability. I've watched this film several times, and will be watching it again in the future. From the moving opening, to the demonstrations of the arts, to the histories of the weapons, and how they have influenced fiction and film, this is an excellent documentary on the sword arts.
Combining CGI, interviews, recreations and stock footage, Reclaiming The Blade is a must-have for any martial arts sword enthusiast or historian. You can feel the passion for the sword coming through from all of those interviewed. This is a film by sword lovers for sword lovers and enthusiasts.
The video opens with a look at Hollywood's sword fights from the days of the great Errol Flynn, to modern epics like Star Wars and Pirates of the Caribbean. You get a glimpse behind the scenes of Hollywood sword epics from those who were there, combined with serious examination of the historical accuracy verses theatrics, annotates from actors, stunt men and weapon masters as well as the people who design and build the props used. Many scenes of droolable "I want that!" eye candy are featured, along with a look at the process of creation behind bringing a sword to life and the actors feelings make this truly great.
A look at stage fighting, combined with ancient arms manuals for example pulls together the fine choreography required to present a real looking yet safe fight scene.
As the film continues, the decline of European arts is examined, the practicality vs fire arms is discussed and more. The evolution from a battlefield art to a method for "gentlemen" to settle matters of honor to a sport is covered. Comparisons of the sporting arts to the fighting arts and the differences in not only techniques but also mindsets are touched on. The feeling I get from the narrator is one of regret as the arts sportified and old knowledge was lost to the sands of time. The film then moves on to looking at modern reenactment groups such as the SCA (Society for Creative Anachronism), and their take on medieval life and fighting.


Leaving Europe briefly, we now move to the Far East with a look at the Japanese art of Kendo and it's evolution from the battlefield arts of Asia as well as the influence of Japanese martial arts on society and our view of the sword. Moving to the decline of the sword as firearms became more prevalent, and knowledge was lost to non-use, to the rediscovery and reexamination of ancient techniques by a new generation of scholars and enthusiasts. Organizations such as Stockholm's Historical Fencing Society and Schola Gladiatoria as well as the late blade smith Paul Champagne provide expert information on the resurgence of these arts.


"It's a weapon for killing people, and I'm learning how to do it efficiently." is one enthusiasts comment. Through the rediscovery of old arms manuals, trial and error to relearn forgotten techniques, today lost arts live again.
DVD Extras
What dvd release today is complete without some extras to compliment the main feature. The 2 disk set that I received contained a second disk with several extras with a running time of about 4 hours. They include:
- The Making of RTB
- Exclusive Additional Footage & Interviews
- Over an hour of Sword Training Videos
- Behind Weta Workshop featurette
- Forging a Real Blade documentary
- Oakshott's Classification of the Sword featurette
- New York Jedi Exclusive Featurette
- Full Online RTB Diaries
- Commentary with director Daniel McNicoll and John Rhys-Davies
This is a mostly solid extras collection, with some excellent content. I enjoyed the Lost footage and making ofs. The weakest parts to me were the training videos and Jedi featurette, both of which felt kind of "Youtubey" to me. You'll find more of the excellent score through out the lost footage, which probably could have been inserted into the main feature without missing a beat. The forging video was a fun quick look at making a sword, and the making of RTB a nice bonus. Overall though, a nice collection of extras to add a little "frosting" to an already good "cake".
Conclusion:
This film is a tribute to the old ways, and an introduction to a world some thought lost forever. Regardless on if you're a historian, a martial artist, a sword enthusiast or just like the facts behind the films, this is a film I think you'll enjoy. The passion and love of the subject is evident through out the film, and some segments tug at your emotions. I've barely touched on the wealth of knowledge this film introduces you to, from history, to technique, separating fact from fantasy and combat from sport. The few technical flaws are easily overlooked when you look at the meat presented. I enjoyed this documentary immensely, and have it in my regular rotation along with other similar documentaries.
Recommended, and well worth the money.
===

Bob Hubbard is the CEO of SilverStar WebDesigns Inc, a web design and hosting company specializing in martial arts sites, as well as an administrator on the popular martial arts communities MartialTalk.com, Kenpotalk.com and FMATalk.com. He is also a respected professional photographer specializing in martial arts event, nature and portrait photography. His martial arts photography can be found there as well as at his martial arts photography web site, martialphotos.com. He may be reached through these sites. More of Bob's articles can be found at rustaz.net. Please contact Bob if you would like him to review your martial arts product or video. Copyright © 2010 - Bob Hubbard - All Rights Reserved. Permission is granted to reprint this article on websites, blogs and ezines provided all text, links and authors bio is left intact.